By Gretchen Ledford
Multimedia Staff
[email protected]

*Clang*
The wooden spoon rings the metal pot lid and most of the fidgeting, wiggling and giggling kindergarteners snap their eyes toward the sound. The young woman holds the spoon aloft, standing amidst pots and soil. Tiny green sprouts reach out around her as she speaks.

"Raise your hand if you can tell me a food that grows up," said Summer Whelden, still wielding the spoon like a conductor with her callused hands.

Whelden acts as the garden director and coordinator for F.E.A.S.T. at Hall Fletcher Elementary School. At her signal, tiny hands shoot into the air and whispers break out like a chorus.

"We provide opportunities for kids to have hands on science. We also promote healthy eating habits by generating positive experiences around food," Whelden said. "We want to make food fun and help them to understand the cycle of food from seed, to growing a plant, to preparing it and eating it and finally composting the leftover to use as food for the seeds."

F.E.A.S.T. stands for Fresh, Edible, Affordable, Sustainable and Tasty. The organization works within schools and with other community partners to educate youth on cooking and gardening.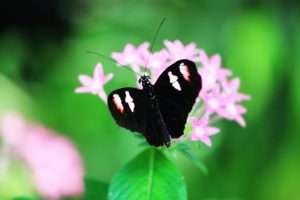 The class takes place in the basement of the school, which once operated as the gym locker rooms. Odd raised strips of carpeted floor break up the eclectic chairs and tables. The dark shower stalls now function as storage. Flushing toilets punctuate the lesson, the sound not even muffled by the flimsy curtain strung over the doorway.

In the spring, the daily lesson usually consists of some hands-on work outside. But today, the cool rain keeps the children inside, full of unspent energy.

The kindergarteners work out their fidgets with up, down and around yoga. Just like the plants they learn about, they raise their hands up high into the air, crouch down to the ground or spin around in a circle. Two small girls lock hands the whole time.

"Asparagus grows up! Carrots grow down. And squash goes around and around," Whelden said.

F.E.A.S.T. provides many of the ideas behind each week's lesson plan. However, Whelden never knows how much time she will get with each group and has to be flexible. She said some teachers always bring their class, while others may skip a week.

"Some people believe strongly that kids grow better outside while others tend to dismiss what we are doing. The school board tends to focus on numbers. So it is on us to prove those numbers, that the lessons that we are doing here aren't just fluffs," Whelden said.

According to the State Board of Education, between 70 and 75 percent of Hall Fletcher students receive free or discounted lunches. The U.S. Department of Agriculture places the school in an area with a low averageincome and low access to food and next to a food desert (one-of-six inside the city limits).

"These particular kids need to be exposed to the idea that you are connected to the food that you eat. This is the food. It is a plant. It comes from the ground," Whelden said. "Poor children have the worst health outcomes. But, learning these lessons now create lifelong habits that can really make all the differences in your health later on. Food, be thy medicine. "

The weirdest city in America gets gentrified

If you were only to look at the promotional material, it may come as a surprise Asheville still struggles with such issues. While the Asheville Area Chamber of Commerce research and reports rankings contain a long list of "Best City" titles, it leaves out any negative accolades.

The city often ranks as one of the most expensive places to live in North Carolina. According to Rent Jungle, a website tracking the cost of renting in the U.S., from 2011 to 2015 the average cost of an Asheville rental jumped up 25 percent. The U.S. Census data from the same time period shows an increase in median family income of only 5 percent.

Lee Anne Mangone, an adjunct sociology instructor at the University of North Carolina Asheville, said in recent years she has seen an increase in population density and a change in neighborhoods.

"What we are seeing as a huge issue, in Western North Carolina and Asheville in particular, is a problem with affordable housing, like the one percent vacancy rate in rental housing. When your basic needs are food, clothing, shelter and you are having to spread the bulk of your income on shelter, then that certainly affects your ability to make the rest of your life work," Mangone said.

Mangone also works as volunteer attorney and board member for Pisgah Legal Services, an organization providing legal assistance and advocacy to low-income people in Western North Carolina.

In January, Asheville achieved the rank of second most quickly gentrifying city in America by the National Association of Realtors. Their ranking system looked at increasing property values and the shifting demographics within the city.

Sheneika Smith, a native of Asheville, said she witnessed this change firsthand. She looks out the window of the third floor office, pointing to where her family home used to be and sighs deeply.

"It's not with the family anymore. Things change in the neighborhood, property values go up and it became difficult to manage it," Smith said earlier in the spring.

Smith works for Green Opportunities, a local nonprofit that does job training for low-income residents. Smith also received the Tzedek Social Justice Fellowship for fighting for social justice in Asheville.

"I call gentrification in Asheville a "G." In the hip-hop lingo, everyone is scared of the G, but they kind of have a respect for the G as well. The original gangster, the OG that has swallowed up urban communities is gentrification in America," Smith said.

In a recent study, New York University's Furman Center found falling crime rates within an area invites gentrification. As the level of crime decreases, the area becomes more attractive to high-income households. Their relocation increases the cost of living and then pushes lower income residents into less desirable regions, usually ones with more crime.

Mangone said as more wealthy folks move into the community, the locals become displaced and are pushed farther and farther away from the community centers. Those residents feel the effects the most.

"Gentrification causes devastation of our social institutions. To family, church, social and civic organizations, to whatever economic institutions are within the community. When a place is developed or 'revitalized,' it puts a wedge within the community, these places are lost or moved. You now have to travel to get it. The power of proximity is broken," Smith said.

Food deserts in the heart of Foodtopia

A short walk away from Hall Fletcher lies the newest restaurant in West Asheville, Pizza Mind. The snazzy red brick exterior sits on the up-and-coming Beacham's Curve, a space previously boasting an auto body shop, child daycare center and Mama's Fast Foods. Now the corner houses not only the upscale local pizzeria, but a French bakery and a new brewery.

"Food access is a human right. Here in West Asheville we have some of the lowest income areas next to some of the trendiest restaurants. The food is right there but you don't have access to it," Whelden said.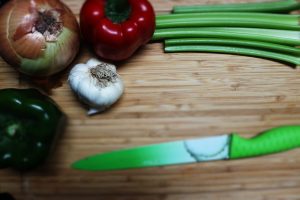 The lack of affordable food in the neighborhood drove the Rev. Shannon Spencer, member of the Asheville Poverty Initiative, to open 12 Baskets. The restaurant, located in the basement of Firestorm Bookstore, serves a free lunch four days a week.

"This is a space for everyone. The goal is to increase collaboration and decrease isolation. For many of us, when we want to get together and socialize, we get together for coffee or for a lunch. Well, that costs money. There are people who want to gather who want to collaborate and communicate and may not have $5 to spare for a cappuccino," Spencer said.  

Food deserts exist in both urban and rural areas. To qualify, according to the Department of Agriculture, the area does not have ready access to fresh, healthy and reasonably priced food. Convenience stores and restaurants generally do not count as options. Their presence can contribute to a poor diet or fall outside of the range of affordability.

In 2011, a study by the Food Research and Action Center ranked Asheville as third in the nation for food insecurity. At the same time, Asheville rolled out the Foodtopia tourism campaign.

The ranking prompted the formation of the Asheville-Buncombe Food Policy Action Council.

"The council is actually made up of community-based organizations. Representatives from each cluster meet to discuss successes and failures and submit ideas to the city," said Carolina Arias, community garden network coordinator for Bountiful Cities.

Arias said Bountiful Cities acts as a part of the land use cluster, one-of-four clusters that make up the council. Representatives of the clusters meet on a monthly basis to discuss their progress and come up with policy suggestions.

"All of this is part of the food action plan, a twenty year plan laid out by the city to improve its food issues," Arias said.

Erin Daniell said she knows these issues well. Her undergraduate research paper on the issue of food deserts discovered the south slope area has been a food desert since 1975 when the last seven grocery stores closed abruptly during an era of urban renewal.

"To have access to the 'Foodtopia' that Asheville claims, you have to have money," Daniell said. "It's been 40 years since the last grocery store was in the neighborhood, but more restaurants open every year."

Since graduating, Daniell has moved to Southside and works as a team coordinator at the YMCA. She continues to work within her community by presenting academic papers and participating in hands-on involvement.

Such community efforts appear to be working. The 2015 Map the Meal Gap from Feeding America shows a drop in food insecurity rates of 1.5 percent since 2013 and the U.S. Census Bureau reports people living in poverty in Buncombe County decreased by 2.5 percent from 2012 to 2015.

Perception and policy shapes tourism as either a boon, or a blight.

Iindia Pearson, a member of the resident's council with Asheville Housing Authority, said her biggest frustration lies at the feet of the governance of Asheville.

"I am from the community. I am working with this organization for the community. I have that connection, and can say to people I am from where you are and they can trust me to do what is right," Pearson said, her voice filled with passion. "We will be doing something so good, and then the government shows up and puts their stamp on it. Claiming it."

Pearson expressed a frustration many have: community efforts succeed and the city swoops in to take the credit. She cited the promotional material the tourism board puts out, which often highlights community efforts, as an example of steamrolling the grassroots campaigns.

"They are focusing only on the tourists, who are interested in the culture, but then you force the culture out. Eventually Asheville will lose what makes it great," Pearson said.

Marla Tambellini, the deputy director of marketing at Asheville Convention & Visitors Bureau, shook her head sadly at the accusation.

"What people don't realize is that we are all part of this community, too and love it. There is a confusion in Asheville, a perception that we are singularly dependent on tourism at the expense of everything else. And that is simply not true. It is just one piece of this economy," Tambellini said.

According to the Asheville Area Economic Indicators, leisure and hospitality ranked second in major industry employment in 2016. The top employers were health services and private education, followed by government.

"Asheville has always been a tourism community, dating back to the late 1700s. Much of this town has been built on people who came here originally as a visitor, from somewhere else and decided to stay," Tambellini said.

According to the Buncombe County Tourism Development Authority, who operates CVB, a law passed in 1983 by the state legislature created a lodging tax which would then provide the funds for marketing.

"We operate off of the mandate that has been given to us, using the money allocated to us to do what we are instructed to do. There isn't a mechanism that just allows us to give the money away," Tambellini said.

Arias said most of the funding for local nonprofits comes through strategic partnership grants, not the state or local funds.

"Basically, the city has some money that they can decide to fund different organizations with, especially those who are collaborating with other groups. However, that funding is fairly small compared with the other sources of revenue for Bountiful Cities," Arias said.

Despite not being allowed to directly donate funds, Tambellini said creating a desirable destination gives them power to dictate terms of large groups of visitors using GO as a catering source or Hickory Nut Gap Farms as a location.

"Some of the things we love most about this community, the artists, the restaurants, the national parks, the vibrancy of downtown, all of those have been shaped because of tourism," Tambellini said. "We have tried to tell our side of the story, but somehow it doesn't get through."

For the Reverend Spencer, the solution comes down to communication and collaboration.

"Right now, with most of the models that we have is people of privilege gathering around a table trying to talk about how to fix the people on the other side of the tracks. We need to sit around a table together and really communicate how we can do this," Spencer said, standing before a group gathered to feast on the donated meal.

The huge platters of food come from some of the top tourist destinations in Asheville,  Spencer said. Mela and Nine Mile regularly donate leftovers.

"Every bit of the food is rescued food from local restaurants. It would have ended up in the landfill.  We serve about 400 meals a week off of this food. Scarcity is a big ol' fat lie. There is enough. There is more than enough. We need to figure out ways to free this food, to keep it from the trash, to recognize one another as a resource and a gift, to communicate," Spencer said.

A man, who identified himself only by his name tag reading "Nate," nods in agreement at her words.
"I'm homeless. It's a struggle. I have a job, but no car or home. So I struggle with where to sleep, where to bathe, how to get from one place to another," Nate said. "But food, almost everywhere I go, it is provided for. There is just so much food."

The three sisters

The rain continues to fall back at the elementary school.

"The tale of the three sisters goes like this," Whelden said. "Corn provides the stalk, tall and high for the beans to climb. But corn likes nitrogen and sucks it out of the soil. Luckily, beans put the nitrogen back into the soil. Squash spreads out all around the other two. It needs space to growand keep back the bugs that would gobble the other two up. Together, they work better. Together, they are stronger."

In the next exercise, each child curls up like a seed. They wait for a classmate to bestow a little sun and rain with the rub of a hand or the tapping of tiny fingers.

Outside, thunder booms.

Inside, the children bloom.