Beat From the Street 2/26/14
By Larisa Karr – Contributor – lkarr@unca.edu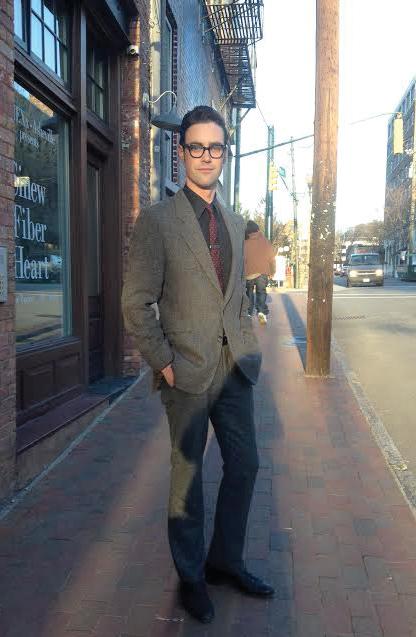 Andrew J. Fletcher, professional musician 
What's your style philosophy?
"Whenever I play a show, I dress up. People listen with their eyes, so you should dress loud. It's also a great way to look yourself, to put yourself together with a lot of intention. It always makes me feel good. When you look nice, it respects the people around you, as well as yourself. Everybody's gotta have clothing. Why not have nice clothing? You don't have to spend a lot of money either."
What inspires you creatively?
"For five years, I've been playing jazz professionally. The kind of jazz I play is specific to the 1920s and 1930s. Those guys from before World War II, so Benny Goodman, and before actually, Jelly Roll Morton, early Louis Armstrong, Count Basie, Fats Waller. Pre-war jazz is mainly what I'm into. To me the music I play comes from the dance music when people were supposed to be on their feet, probably drunk, and dancing."
When did you first start getting into clothing?
"Well it's been a really slow evolution for me. Because I was homeschooled for 11 years, I didn't have a peer group to inform me about what to wear and pressure me, either implicitly or explicitly. I guess when I was about 19, I slowly started to care more and began to refine my ideas about what I wanted to look like. But a lot of it's just like individual moments where I see a piece and say 'that.' I'm for wearing clothes that would look hideous on a mannequin and ugly on a rack but that fit you perfectly when you try them on."
Do you have specific looks in mind or do you derive from pop cultural figures? 
"Yes and no. I definitely love Elvis' early looks with the collared shirts. I hate clothes that are baggy but like clothes that are structured and en pointe, as I'm a tall, thin guy and don't like to swim in my clothes. Clothes should feel like a second skin. I'm interested in a time when people wouldn't leave the house looking sloppy, when they wore suits to the movie theatre. The Two Man Gentleman Band inspires me today. They're two guys who always dress up. They used to be more of like a novelty act, and they wore straw boaters and suspenders and things like that. Now they've gone for a more mid-century California look which is classy in a Playboy sense but incorporates pastel colours in combination with small-brimmed fedora hats."
How do you feel about the style in Asheville?
"One of the things that I like about Asheville is that I don't have to try too hard to stand out from people. I'll wear skinny jeans, a dress shirt, a tie and a leather jacket. Other than the shirt and tie, it's pretty much what everybody else is wearing, the 20-something uniform. You add a shirt and tie and it takes you from blending in to standing out. It's not that hard."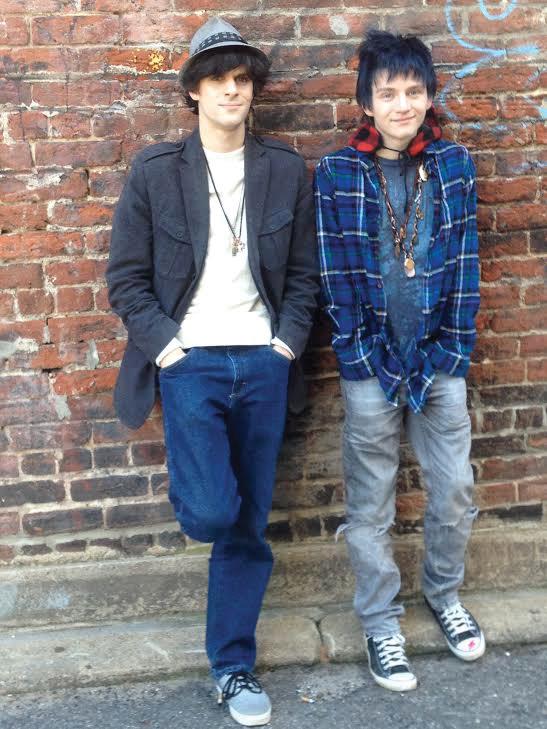 Nathaniel Wimpy, left, history student at UNCA
Tell me a little bit about your style: 
"I guess I tend to go towards darker clothing — a lot of greys and blacks and cold-weather clothing. I like hats and sweaters and jeans but hate summer attire, t-shirts and all that stuff. It's boring to me. I don't think I wear anything besides jeans actually. Vans are my go-to shoes."
What's your style philosophy?
"Do what you want. I don't really have a philosophy with clothing particularly."
Creativity-wise, what inspires you?
"I kind of go through my life and my day and hopefully see something that's particularly cool. I'm a history major, so I draw a lot of inspiration from the past and what I read about it, studying the Crusades specifically. I draw a lot of inspiration from feudal systems, knights, stuff like that. I also am inspired by music."
What do you listen to?
"I have a tendency to listen to absolutely everything, aside from country, specifically I listen to a lot of Of Montreal. They're one of my favorite bands and they're from my home town, Athens, Ga."
Describe your style in one word: 
"Me."
Dustin Hicks, right, art student at UNCA
Tell me what inspires you creatively: 
"As far as art goes, I'm really drawn toward anything that's extremely expressive. I don't like to just dwell on too much realism and I don't like to go completely abstract either. It has to be something that has a lot of power and meaning that makes people think about things. I like Banksy, Dali, Picasso, of course. There's an artist who lives here in Asheville that I'm a pretty big fan of. His name is Gabriel Schafer. I've really been affected by his work too."
Is your hair blue or black?
"It's kind of a weird blue-black. I don't know. It was actually called 'Starry Night.'"
What kind of clothes do you gravitate towards in the morning?
"Usually something blue, I like blue. Basically a combo of comfortable and something akin to what I'm feeling that day."
Style philosophy?
"I wouldn't say I really have much of a philosophy about it. It's just like anything that I can find that's cheap and kind of cool, I'll wear. My necklaces and hair are the only things I always wear, as they have specific meaning. I have a rule that if anybody gives me anything, I have to wear it. So, these gloves were also a gift and every one of these necklaces has something to do with someone. Usually my mom makes them for me. The hat was something I got with a friend and it's mostly because of Catcher in the Rye."
Thoughts about Asheville:
"I really do like the city. There's a lot of diversity here, and it's something I'm not usually accustomed to where I was from in Wilkesboro, which was pretty straight forward, conventional and very conservative. So I really specifically wanted to go to a place where I felt people were being more creative, loose and free with what they wear. I think people inspire me here in terms of clothing and also in the presentations of what they want people to see of themselves. There was one time I came downtown with a friend and there was a face painter dressed up like a fairy. It was really cool. She had flowers and everything placed in her face paint. Just a normal occasion, she was just being a fairy."