We were somewhere on I-26 E when the nerves started to kick in. I remember saying, "I think we might get bullied today." 
"I sure hope not," my girlfriend, Ona Elkins, responded as we traveled farther away from Asheville. The hometown Carolina Panthers were to take on my Indianapolis Colts at 4:05 p.m. 
The whole night before I was anxious thinking about how us Colts fans would be treated in the stadium. Was I going to get chastised for cheering for an average team? Was I going to be sandwiched between two Panthers fans? Were the Colts going to get smoked? Will some crazy fan punch me for cheering? 
All of these thoughts were just my anxiety speaking, but they weren't irrational by any means. According to a study by Sports Review, 39.2% of NFL fans have witnessed a crime at or around an NFL stadium. 
But the Panthers fans should have some of that Southern hospitality, right? 
After 2 hours of traveling, we decided to grab a quick bite to eat and watch a few games from the 1 o'clock window. I was pleasantly surprised to see a few Colts fans as we enjoyed our Carolina BBQ wings. 
"When should we head out?" my girlfriend asked. "Let's try to aim for 3:30 p.m.," I replied. The main reason I wanted to get there so early was because of my extreme F.O.M.O. or fear of missing out. 
NFL games have some of the most exciting pre-game rituals that sports have to offer. The announcement of the starting lineups, the tailgate events, the warmups, the National Anthem and my personal favorite, the fly over. This is when a few military jets fly over the stadium as the National Anthem comes to a stop. 
"I can not miss the fly over," I said. 
After cleaning off my hands from the delicious wings, I asked for the check and we headed on our way to park downtown.
 One thing I noticed while traveling to downtown Charlotte was the horrible traffic. If you are looking for parking on game day, I would advise you to try to find parking at least an hour before game time. Although there was some traffic, we found a garage about a 15 minute walk from the stadium. 
"Look! There are some Colts fans," my girlfriend said as we walked down the crowded sidewalk. This gave me a bit of comfort as I was questioning what the ratio of Colts to Panthers fans would be. 
While we approached closer to the stadium, I continued to see more Colts fans. A Jonathan Taylor jersey here, an Andrew Luck jersey there. Shoot, I saw a Dwight Lowery jersey and he only played in Indy for one season. 
The nerves started to ease as we walked through security. 
WAIT! MY TICKETS!
Fans were piling into the entry lines and I totally forgot to pull up my tickets. I quickly grabbed my phone out of my pocket and searched through my apps to find my tickets. "Jesus, where are you?" I asked. 
"Jake!" Ona yelled. I totally just left her behind while I was looking for the tickets. 
"I'm sorry. I was looking for our tickets," I said as she gave me a look. 
We got our tickets scanned and made our way through the crowded concourse of the stadium. 
"KEEP! POUNDING!" the Panthers fans screamed as we made our way to the 500 level. What an interesting chant. 
I was very impressed with the variety of vending options on the 500 level. They had burgers, BBQ, mixed drinks, cocktails, beer, Bojangles and many more alternatives. Additionally, there were T.V. 's on each post, providing us football fans with non-stop entertainment. 
We walked up the steep staircase to row 19 of section 533. I thought to myself, "Please don't sit me next to two Panthers fans." Well, that was exactly what happened. 
"Hey, how are you doing?" my neighbor asked as I took my seat. "I'm good! Excited to watch the Colts kick your ass," I said in my head. What I really said was, "Doing well! Excited to watch some football." 
These people were cool. I felt a huge sigh of relief. Two seats were empty next to Ona which gave me some hope for us.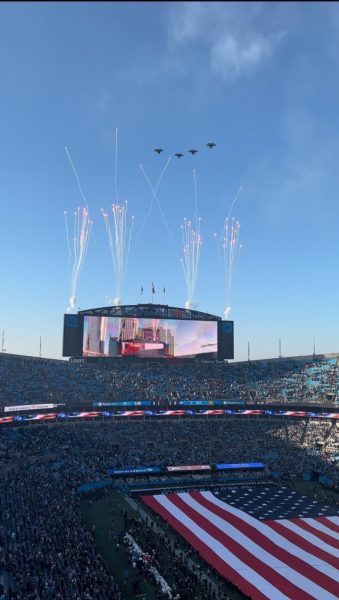 Five minutes later, two jabronis walked down our aisle and sat right at those two seats. I had a bad feeling about them. They were tall, ungroomed and looked like they were in their early 20s. 
I tried to focus more of my attention on the pregame entertainment, waiting urgently for the National Anthem. 
Finally, after what felt like an hour, the anthem started. 
"Just wait for the fly over," I told Ona.
"And the home – of the – brave," sang the anthem singer. As he finished his last note, four fighter jets roared over the stadium as 70,000 fans cheered at the top of their lungs. 
I felt thousands of goosebumps all over my body. This was what I was here for. This was football. 
"That was freaking awesome," I said with a grin on my face. While still recovering from my excitement, the game kicked off. 
The game started off poor from a fan's perspective. No points, bad offense and iffy decision making. 
"Both these coaches are wimps! They need to grow a pair," said the Panthers fans next to us. "The Colts suck. Why can't we move the freaking ball," he said. I bit my tongue as Ona grabbed my hand. 
One thing I noticed was I felt guilty for celebrating. The Colts would make a big stop or get a big first down and I just clapped softly like I was watching a golf tournament and not a football game. 
"TOUCHDOWN, JONATHAN TAYLOR," said the announcer as I held back my excitement. 
I just sat there with little emotion. There was little to no tension between the surrounding fans and I but I felt like I needed to "respect their turf" and keep my mouth shut. 
I noticed a few empty seats near the top of our section where a band of Colts fans were sitting. 
"Hey Ona. Do you wanna move?" I asked. 
We made our way through the tight and beer-can-filled aisle to the stairs. Step by step, I felt like I was getting a breath of fresh air. 
We made it to the top and I was finally able to celebrate my team's successes. I felt like I was back at home on the couch yelling things like, "LET'S GO, BOY!" and "ATTABOY PITT!" 
As the Colts lead grew bigger, the crowd grew smaller and by the end of the third quarter, a stadium once full of 70,000 screaming fans seemed to be divided in half. One play, the Panthers made a big first down and it sounded like crickets in the stands. 
COLTS WIN!
My anxiety was gone. Nothing went wrong and I was pleasantly surprised by the courtesy and respect the Panthers fans had shown me. 
All in all, being an away fan at Bank of America Stadium was not bad at all. Maybe it was the Southern hospitality.