Asheville driver finds fame in tailored playlists
Maggie Haddock
News Editor
mhaddock@unca.edu 
Twitter user TEEJUS__ detailed their Spotify playlists tailored to the specific types of customers they see when driving for Uber and Lyft. Their tweet, quickly gaining traction, brought TJ Jones more than just transient internet fame.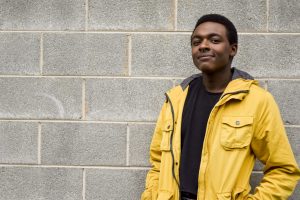 For Jones, this single tweet could be the gateway to a multifaceted future in the music industry.
"I just started driving for Uber and Lyft and I've been getting a lot more compliments on my music since generalizing my passengers by one of these nine (sic) playlists," Jones tweeted.
Soon after posting, the tweet spread quickly, gaining more than 50,000 retweets and more than 250,000 likes within the course of a few days.
Jones, 21, began driving for Uber and Lyft about two weeks prior to posting their viral tweet. They said there was an unspoken necessity in creating the playlists.
"I originally just played my music library on shuffle, which was never a good idea," Jones said. "I would skip a bunch of songs while customers were in the car and sometimes I could tell they were annoyed by that, so I was like, 'OK, I will just make one big playlist with Uber-friendly music.'"
Jones soon divided the music into categories pertaining to the specific type of customers they pick up, pinpointing their personality based off the first impression they give when customers step into the car.
"I looked through the songs and I said, 'OK, is this going to apply to any of the passengers I get?' I had a general idea of the playlist names I wanted but I did not come up with them until after I had picked at least one song."
The playlists, with titles such as "quiet ppl," "30-40+" and "Heady bros," exemplify some of the playlists Jones curates. Each playlist, Jones said, intends to reflect key personality components of their customers.
"I have Sufjan Stevens on the 'quiet ppl' playlist, Frankie Cosmos and Triathlon," Jones said. "And 30-40+' is all bangers. We've got Earth, Wind and Fire, Fleetwood Mac, Radiohead, Third Eye Blind, Rick Springfield, The Cure."
Shortly after posting the tweet, Jones received tweet responses from Spotify as well as artists such as Fall Out Boy. Jones received coverage from The Washington Post, BBC and The Independent. Jones was also featured on Twitter Moments, a feature that highlights trending topics on Twitter.
"I saw that Twitter had put me in their Moments and that is when things really took off," Jones said. "Each time I get a new opportunity whether it be an interview, job offer, any of that, I am always surprised by who it is, what they are wanting, anything like that is so cool."
Arturas Kerelis, a producer who works primarily with NBC, tweeted Jones offering them a job as music supervisor for a few short film projects.
"Yo @TEEJUS___, I need a music supervisor for a couple of short films this summer. If you're interested, the job is yours! 🙂 Your @spotify playlists are a perfect resume," Kerelis tweeted.
Kerelis was unavailable for comment on this proposal, as no official contract was ever exchanged between Jones and Kerelis.
George Goodrich, founder of PlaylistPush.com, stumbled upon Jones's playlists right before they gained a following from Twitter.
"I didn't (find them on Twitter). I'm always on Spotify and we have a few people on our team that are always on Spotify looking for different people who own playlists, so I actually found them on Facebook and then we started talking," Goodrich said. "I saw they posted a screenshot of it and then I Googled it and then they told me all about it. I was like, 'Wow, I really caught you at a good time.' So I kind of just lucked out."
Through PlaylistPush.com, indie artists and popular playlist curators come together to give artists and curators alike exposure and following.
"The way I look at it, TJ is basically a radio station owner. So they own 'Heady Bros radio station.' And the 4,000 people who follow, that is super valuable to indie artists and labels and that is a really good spot to be if you can get on that list," Goodrich said. "People want to get their music into the ears of potential fans and listeners and that is exactly what the playlists do."  
Goodrich urged the importance of playlist curation, saying curators like Jones play an integral role in the middle ground between music and listeners.
"The whole playlist thing is about people wanting to have a playlist for every situation, whether it's like you are cooking with your girlfriend or you are getting ready to go to a party," Goodrich said. "(Jones) did it and identified a specific group of people and type of person, which is really interesting."
Hayley Pickerel, a long-time friend of Jones, described Jones' versatility in the arts.
"TJ is just a very artistic person in general," Pickerel said. "They've always been active in music and the local music scene, so they really are a jack-of-all-trades when it comes to the arts."
Aside from playlist curation, Jones also works in film and photography. Goodrich hopes to see Jones pursue music curation despite their other interests, as he sees a following from Jones most curators hope to attain.
"I know a lot of people are making playlists and they wish they could get that kind of followership and notoriety," Goodrich said. "They could end up selling it to a major record label and develop a major following and start putting on events."
Jones said they attribute their diverse repertoire of music to their friends, sourcing Pickerel among others as contributors to their current music taste.
"Most of the music I have gotten into in the past few years, it's mostly been friend recommendations, all of these people should follow my friends on Spotify, if they're OK with that," Jones said.
The Twitter fame Jones experienced during recent weeks may be fleeting, but the passion Jones possesses for music and other arts seems to be one thing that will not fade with time.
"It is really cool but only because I am getting recognized for something that I love. Music, I love it. It's one of my artistic endeavors. My most recent artistic endeavor is playlist curation," Jones said. "It's really cool. I never thought my taste in music was so relatable that people would follow me on Spotify. It is really cool, it feels nice."